At Able Roofing our services include Roof repairs, Roof cleaning, Roof restoration and maintenance, Roof re-pointing, Roof re-ridging, Re-roofing and roof extensions, Roof painting and glazing, Water blasting and High pressure, Gutter Installation, Colour Bond Roofing, Free roof inspections, advice and quotes.
24/7 Emergency Service. Having a fault in your roof is a disaster. Getting Able Roofing to fix the job as soon as possible will help put your mind at rest and help stop the problem before it gets any worse.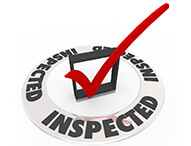 Roof Inspections. Having your roof inspected is a great way to detect any problems that might be occurring or may occur. Don't wait for those nasty water leaks or for your roof to deteriorate, as there are several problems that can go undetected which may result in you having to get your roof replaced.
Choose the Right Roof Our guides to your roof can give you a lot of information about choosing the right roof for your new home or home renovation. Click here to read more about the types of roofs.
Roofing Guides
"A New Look System" is a roof restoration technique […]
"The best way to find out the condition of […]
There are seven most commonly occurring roof types in […]
Know Your Roof
Your roof is the crown of your house. It is continuously providing you and your family with a secured shelter, protecting your family from all sorts of weather conditions. Roof maintenance is a preventative method of stopping major problems before they occur. In our 'Know Your Roof' section, you can read more about roofing and its importance.
TESTIMONIALS – Feedback from our clients…
Hi Liam,
I'd like to express my feelings on the roof restoration you just completed at my house.
When I drove into my street the day you cleaned my roof, it didn't look like you cleaned and re pointed, it actually looked like a brand new roof.
It looked amazing, money well spent on my behalf.
I have had people clean roofs for me in the past, but none have turned out like yours.
I am very happy with the job and it has changed my house completely.
Everyone in my street has complimented on your job and asked for your phone number.
Thanks again Liam for the fantastic job and improving my house and it's value completely.
- Jason Mallia
Hi Liam
'We were extremely happy with the services provided by Able Roofing. We were impressed from the very beginning with the very detailed quote, complete with pictures taken with an ipad of the broken tiles and other problem areas on the roof. Liam was happy to go through the process so we knew exactly what would be happening and the time it would take. We are grateful to be slotted into their busy schedule so quickly to get the work done. The price was competitive and we are very happy with our newly restored and painted roof. We would not hesitate to recommend Able Roofing Services.'
– Mathew & Jude Morahan
Many thanks Liam – we don't mind you including pictures of our house with your brochures.
Regards
- Jude Morahan
LEARN HOW WE CAN HELP YOU TODAY!