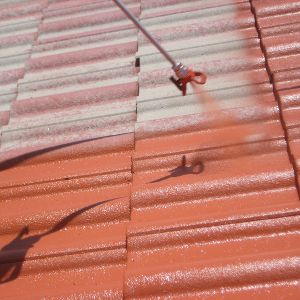 Stronger Roof with Roof Painting
Roof painting can be a really beneficial service to your roof, making it look at its best and giving it additional resistance abilities.
If you think that painting you roof is necessary only when you want to change its colour and look or just because the old paint is coming off and it won't look as good, then you will be surprised to find out that it doesn't only do that but you get more benefits from painting your roof than you initially thought.
Roof painting will indeed change the look of your roof and give it a new colour to match your tastes or the new look of your house, or improve its look by making it look clean and shiny, but it will also provide a protective layer that will provide better protection to your roof against rain, hail and extreme heat. This protective layer will not only help your roof giving better protection to your house but will also maintain the quality of your roof, making it more resistant to the constant pressure exerted by the elements thus increasing its longevity.
Best Painting for Your Roof
Choosing the right colour for your roof is not the only major factor when undertaking a painting job. It is just as important to choose the right paint as well as it might have an impact in the overall quality of the job if not looks.
Depending on the material used for the roof of your house, being slates, tiling, wood or other material, there are paints designed to suit those particular materials, protect them and increase their resistance to different weather conditions.
Another thing to consider is the location of your house and the weather conditions in the area. Taking into consideration all these factors, it will help you find the best suitable paint for your roof.
A proper painting job would last for years before a new coat of paint will be required to reinforce your roof. This makes roof painting a very safe and cost-efficient way of keeping your roof in good condition, offer additional weather resistance and looking fresh and clean.
Roof Painting Services
Able Roof Restoration offers outstanding roof painting services that will help you keep your roof in great condition and keep your home, family and possessions safe from the most challenging weather conditions.
Our specialists cover painting services for domestic as well as commercial roofs and use the highest quality products that will protect your roof for long period of time. Making use of their experience, our tradesmen will find the most suitable solution to your needs and budget.
The advantage roof painting offers is that it protects your roof, increases its strength and can also completely change its look by giving it the colour you choose.
Have your house stand out and contact our experts for more information about our roof painting services and FREE quotes, call us on 0475 000 555.